Much like Adam Adamant, I have returned after a disappearance! That's right, not only does he and I live, but we have returned with a bang. A reimagining of the classic 60's TV show produced by Verity Lambert of Doctor Who fame, the amazing adventures of Adam Adamant are told to us through the pen of Guy Adams, and brought to life by Blake Ritson as our titular hero. Join me know as we take a deep dive into the Edwardian intrigue taking place in the swinging sixties!
A Vintage Year for Scoundrels starts with What is this Place? The story follows the displaced Adam Adamant as he recovers in hospital following a concussion and suffering major confusion. Taken care by Dr. Ren, played by Amaka Okafor, and her partner Sandy, portrayed by Annabelle Dowler, Adam is stuck within his mind while dark forces are at play around him. Also introduced is trying novelist Georgina Jones, who is all the right kinds of kick-ass and witty. What is this Place? is a great start to the series, with both of our leads immediately becoming their characters, and some great dialogue from the wordsmith himself, Guy Adams. There is also a great mix of stuff from the original series as well as new angles to explore. This is no more apparent in how Guy Adams plays into the ambiguity of Adam's mental state and how he deals with his inner thoughts, often seen through The Face, the villainous dual role, maybe even persona, of Adam Adamant. I also commend Guy Adams' ability to display such visual action in the audio format, finding a way to tell us what is happening, but make it feel as if it is being shown to us, which is by far not an easy task.
Next up is Death has a Thousand Faces, in which we see Adam Adamant and Georgina Jones' first real case as a crime fighting duo, as well as our introduction to Thespian Extraordinaire, William E. Simms, played by none other than Guy Adams himself. After finding a corpse covered in a sweet layer of confectionary sugar, Adamant and Jones venture out to the carnival to find the culprit. And while Adamant is led astray by the villains themselves, Jones meets and is joined on her search by the aforementioned Simms. And in this story, Simms is by far the star, even though he only comes into play halfway through. Guy Adams' performance here is brilliant, allowing for the dialogue to come alive in a way only the writer can do. Death has a Thousand Faces centres itself in a brilliant mystery and an exploration of our leads from What is this Place? as well manage to explore the newest member of the team with great villains to boot.
The set wraps up with Georgina Jones Dies! And I am staying very hush hush on this episode, as it is one best gone in blind. Its absolutely brilliant however, and caps of the set with a brilliant ending.
Now, for some stray thoughts. As mentioned earlier, Guy Adams has found some brilliant new angles to the story of Adam Adamant, but the biggest is how he explores the story of Georgian Jones. For all of the good that the original series did, there is some very unfortunate sexist undertones, as well as Georgina Jones often being relegated to the screaming damsel in distress. Here though, Milly Thomas' Jones has agency and is very much the equal to Adamant and Simms. And to have such a strong cast of females in what was much a boys own adventure, is simply just very exciting.
As a final aside, I appreciate how Big Finish has kept the original theme song, as it fits the tone of the revival beautifully while also playing tribute to the original.
Adam Adamant Lives! Volume 1: A Vintage Year for Scoundrels is already a contender for best Big Finish release of the year, and that is said with the competition it faced in the month of January alone(P.S. I will be covering the Torchwood releases I missed in my hiatus very soon). The cast are perfect, and writing is uniformly brilliant. The mysteries are tight and the action is explosive. Adam Adamant Lives with a 9/10, and his return in August is highly anticipated.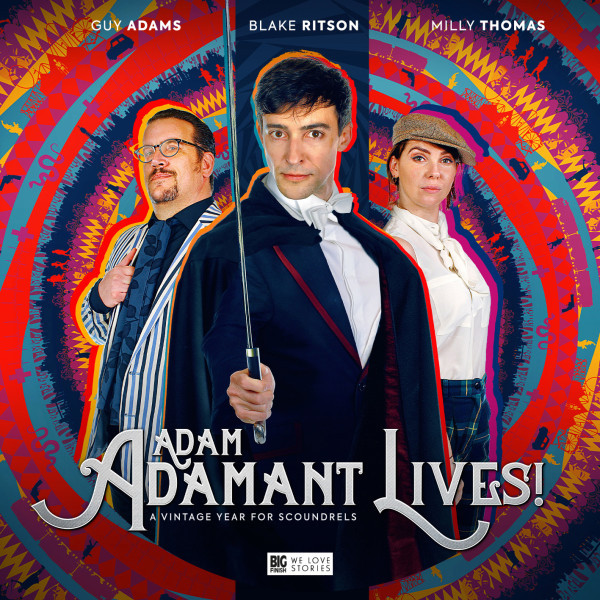 Adam Adamant Lives!: Volume 1: A Vintage Year for Scoundrels is out now from Big Finish at https://www.bigfinish.com/releases/v/adam-adamant-lives-volume-01-a-vintage-year-for-scoundrels-2087