After five stunning sets that built off the lasts success, The Diary of River Song had to have a bit of a clunker, and unfortunatly, Series 6 is just that. However, there is still plenty of good to be talked about, including 2 of the strongest single episodes across River's run. Let us then adventure once again into The Diary of River Song!
Series Six opens with River getting herself into trouble in November 1963, in An Unearthly Child by Matt Fitton. The first of the two great episodes in this set, An Unearthly Child blends together both the bombast and action we have come to love about River, but also the quieter and more mundane world of Coal Hill before The Doctor met Ian and Barbara. And speaking of Ian and Barbara, both Jamie Glover and Jemma Powell give their best performances as the characters, echoing back to the originals, while still giving their own take. And while neither Susan or The Doctor appear much at all in the tale, both parts are used excellently by Fitton.
River is quite the anomaly in The Web of Time by John Dorney. And I think anomaly is the best word in this case, as while Dorney is often extraordinary in his writing, The Web of Time seems to fall flat on its feet from the basic setup onward. There is no question that Ralph Watson played Captain Knight brilliantly in The Web of Fear, however, here he is only a minor influence on the plot, which is jarring due to the character and actor being written for so adoringly. The Web of Time also struggles by being very much a prequel, to the point where it offers nothing new and exciting, instead being filled to the brim with clunky exposition. A miss on many accounts unfortunately.
River, in her "archaeological"/thieving ways has made her way to the Miniscope in Peepshow by Guy Adams! Much like the first episode, River isn't in a direct prequel to the events to Doctor Who, but is using her knowledge of The Doctor's timeline to make a bit of profit, which I think is one of my favorite ideas for a story yet in the series. All of the guest stars in Peepshow are brill with Clive Wood as Dibbsworth being especially memorable. And much like An Unearthly Woman, the small cameo from Tim Trelor as The Third Doctor is a great addition that doesn't intrude or overstay its welcome. The highlight of the set for me.
The final exploration for Professor River Song is in Victorian England theatre, that of Henry Gordon Jago's establishments in fact. This and more in The Talents of Greel by Paul Morris! While not as underwhelming as The Web of Time, The Talents of Greel falls into much the same traps. Again, this is very much a direct prequel instead of an adjacent romp, and this causes the story to suffer. However, while this is the longest story in the set, it does have some good pacing, with only few moments of sag. I will give credit as well for how well written River, Jago and Mr. Sin by new to the series writer Morris.
Overall, The Diary of River Song Series 6 is the very definition of a mixed bag. Two excellent stories that run concurrently with classic episodes and feature well-done cameos from David Bradley and Tim Trelor. Yet they are brought done by two lackluster continuity fest prequels that feel unnecessary and apart from a few standout moments in each, amount to very little worthwhile. The Diary of River Song Series 6 is a 6/10.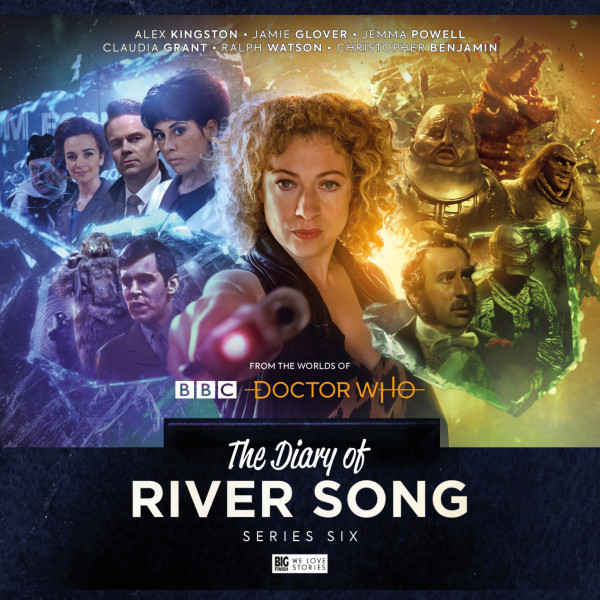 The Diary of River Song Series Six is out now from Big Finish at https://www.bigfinish.com/releases/v/the-diary-of-river-song-series-06-1744