After a giant month for Paul McGann's Eighth Doctor, we have yet another release of his to dive into, and while it is the third volume of The Time War series at Big Finish, The Time War 3 is suitably my first dip into the range. Featuring Eight and companion Bliss, who I encountered once in Companion Piece in Ravenous 3, we get some very well done stories that may or may not include the Valeyard, the darkest version of The Doctor.
The set begins with State of Bliss by Matt Fitton, which is surprisingly a very good introduction to Bliss as a companion. Bliss, played by Rakhee Thakrar, is quite good in this, playing a companion who seems to have grown quite a lot in the last few adventures with The Doctor from where she was at when the Time War first happened. I will say that people who have listened to the first two sets might not be quite as enthralled as I was, as they would have likely known or gathered a lot of what is fleshed out in this episode, but it still is very well produced.
The Famished Lands is next and is written by rising Big Finish star Lisa McMullin. I think this is her first time writing for the Doctor himself, and what a great job she does with Eight. Placing Paul McGann in such a suitably high concept story that puts the characters through the wringer really plays to the strength of all involved, and McMullin writes a brilliant third act in this episode which is best experienced without knowing why beforehand. My favourite of the set.
Third up is Fugitive in Time by another firm new favourite Roland Moore. Probably the lightest episode in terms of tone, Fugitive in Time is very welcome after the darkness of late. Moore writes Bliss the best in this set I think, giving her plenty of character that Thakrar really sinks her teeth into. If I have one qualm with the story, it is that it feels a little less important than the other three stories when it comes to the boxset as a whole and the Eighth Doctor.
Finally is John Dorney's The War Valeyard. Probably the most hyped story of the set, but one that seems to fall a bit short compared to the others. This isn't to say it's bad by any means, in fact it is very good, but I just found the rest of the set to be that much stronger. Positives though are many with this story, with Micheal Jayston returning after a long hiatus as The Valeyard with glory and his face off against McGann is very good, even if it seems a bit on the short side.
The third volume of The Time War is interesting, as to someone who has no prior experience with the range, it works on a lot more levels than it might for range veterans. Because of this, I don't feel I can accurately give the release a score out of 10, however, I still do recommend it.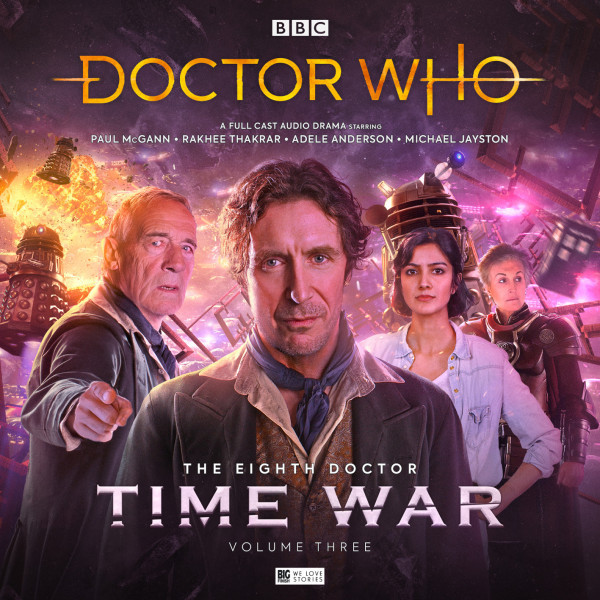 Doctor Who: The Time War 3 is out now from Big Finish at https://www.bigfinish.com/releases/v/doctor-who-time-war-3-1675