I begin this review with deepest apologies for my quite annoying tardiness(or would that be Tardisness?) when it comes to recent Big Finish releases. However, now that the hectic life of education is out of the way, I finally am able to dive back into what is music to my ears. To mark my full return, I wanted to look at a Torchwood that came and went when I was MIA, much to my disdain. Sargasso, written by Christopher Cooper and featuring the heart and soul of Torchwood, Rhys Williams as well as the Autons.
Plot-wise, we have a really cool idea, having the Autons take advantage of the pollution crisis, that is executed well. Rhys, having gone on a cargo ship after the events of Aliens Among Us. Placing Sargasso here is a stroke of genius, allowing for the character development of Rhys from Aliens to be applicable. However, the best part of Sargasso is that it very much acts like a backdoor pilot much in the mould of The Mahogany Murders was for Jago and Litefoot. Rhys Williams: International Torchwood Agent anyone?
As I mentioned, Rhys is by far my favourite original cast member from the show, only rivalled by Andy, and I think Sargasso is a great exemplar of why this is. Rhys is played as the lovable oaf at times, but Kai Owen is able to bring such depth to him, whether that be rage, heroism or even fear. Rhys is likely one of the most rounded characters in Torchwood. In addition, I have to give props to Sydney Feder as Kaitlin. Feder is able to pull off a challenging arc for the character, from starting as a spoiled rich activist rebelling against her father, into something much more fascinating and interesting. To see a caricature evolved in such a way is much appreciated.
Sargasso has seemed to be a divisive release among friends of mine in the community, however, I struggle to fully understand this idea. I hear that this episode went too political, but I have to question this conclusion, as the show that had one of the first openly pan-sexual lead characters, a sex-positive outlook, and inclusive should never be misrepresented as an apolitical series. Torchwood is at its best one political and Sargasso is further proof of why. 9/10.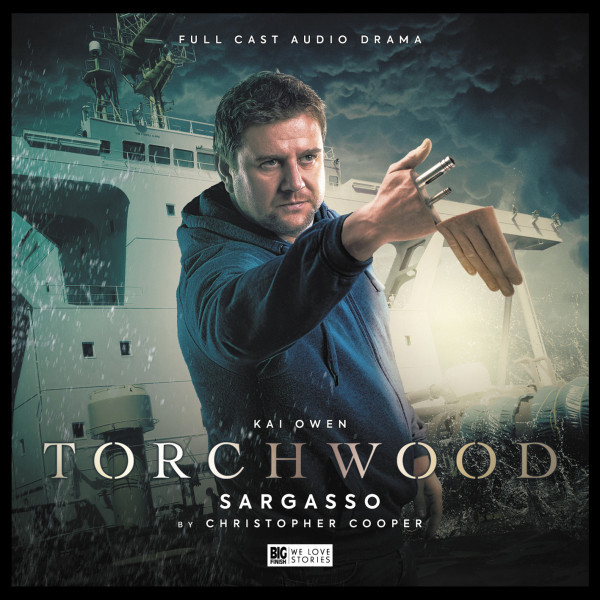 Sargasso is now out from Big Finish Productions at https://www.bigfinish.com/releases/v/torchwood-sargasso-1714