A long-awaited and longed for release, helped by their wonderful debut in March with The Eighth of March, The Paternoster Gang have made their first full apperance in the form of their own series of boxsets. The first of four boxsets under the umbrella title Heritage, we have three gothic adventures from Strax, Jenny and Madam Vastra very much keeping the quality of tv apperances in great Doctor Who episodes such as Deep Breath and the absolute classic The Crimson Horror!
We open the set with The Cars That Ate London! by Jonathan Morris. I think the cleverest part of this story is how well it introduces the characters for the new inductees, but is very exciting for long term fans of the group. Strax, Jenny, and Vastra all have great opening moments that feel very true to their characters, and it is wonderful how we get a second-hand account of how Strx acts from a unfamiliar human. As for the meat of the story, We get some wonderfully modern ideas but done so in a very Victorian London, not actually veering into streampunk. Self-driving cars and artificial intelligence are things we still deal with today, and to have such a nuanced look at it while removing it from our familiarity as an audience is very welcome indeed.
Next is A Photograph to Remember from Roy Gill. I love the great influences that Roy Gill brings from his background in horror to this story. Spirits, the undead, and the sewers are all wonderfu parts of this tale, which is a very good horror-comedy, up there with Evil Dead 2 and Shaun of the Dead, and yes I really mean it! We also get some wonderful new characters in the Bloomsbury Bunch, which develops Jenny in a very nice way especially. I also love how instead of giving a very modern take on Victorian London like the previous story did, we get a much more alien sensibility here, really exploring the unknown.
Finally we have Paul Morris' tale, The Ghost of Greenwich. Again, following on from the other two episodes, this is just high-quality fun with all kinds of humour and great ideas. I think what the best part about this episode is that this episode wears its gothic influences on its sleeves very proudly. Given Morris' past writing for Jago and Litefoot, I love how it turns up but is very distinct from that series itself.
Cor Blimey! Heritage 1 is an absolute classic firing on all cylinders. From all three leads effortlessly fitting back into the characters from the start, each episode feeling distinct and creative, all while connected through the theme of what it means to be human, or better yet, being a part of a community, and where you come from, hence Heritage. It also helps that we get such a variety of comedy in the set, whether it be fish out of water(or would that be Sontaran), linguistical humour, slapstick or just plain laugh out loud moments. Big Finish should be extremley proud for the stunning work they have done on this assured and brilliant spin-off. 10/10 Sontar-Ha's!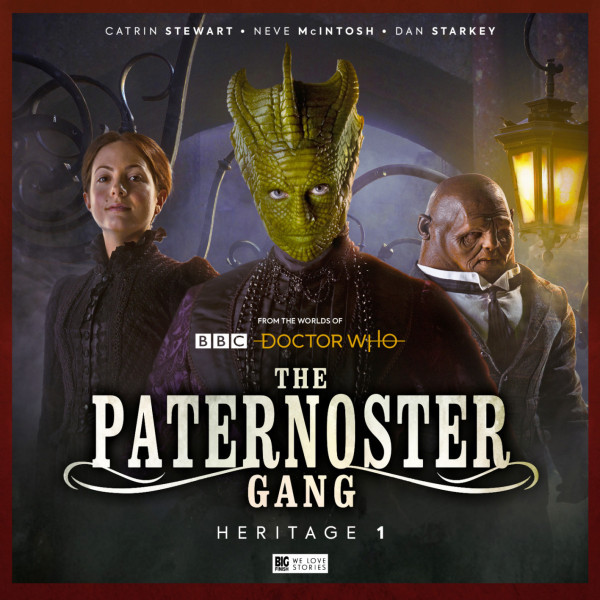 Heritage 1 is now out from Big Finish at https://www.bigfinish.com/releases/v/the-paternoster-gang-heritage-1-1983