Released today is the eighth instalment of Big Finish's UNIT series, starring Jemma Redgrave and Ingrid Oliver as Kate and Osgood respectivly. Acting as an end of an era, with new script editor Andrew Smith taking the team forward into post Day of the Doctor territory, Incursions is a big deal. And while some might crack under this kind of pressure, the team behind UNIT give what is probably the strongest and most varied boxset to date. Three stories instead of four, but those three are a horrorifying sequel, a high concept standalone tale and a two part finale involving River Song herself and all are excellent.
Opening the set is This Sleep of Death by Jonathan Morris. A sequel to the 6th Doctor tale Static, released back in December 2017, we see the fallout from that tale and how UNIT manages it. And while the story works as a terrific sequel, finding a new angle to explore as well keeping the momentunm of Static, it is also easily listened to as a standalone tale. Both Kate, Osgood and Josh are given great material with this harrowing thriller, ranging from panic, authority, heroism, and ultimatly making what could be the wrong decision. It's a morality tale done perfectly.
Second is Tempest from Lisa McMullin, who recently wowed me with her entry in The Eighth of March, Emancipation, scores two for two with this standalone whirlwind of Shakespearean magic and modern day science. As I said, this is a very standalone tale in the UNIT Catalouge, however, it is an absolutle belter. McMullin's writing allows for Sam Bishop to really shine through in this episode, allowing for both comedy as well as some quite emotional dilemmas for him to grapple with. And while this episode is definitly his, Osgood, Kate and Josh all are great support, dealing with beuracracy, "mind control" and the wind.
Closing out Incursions is the two parter The Power of River Song from Guy Adams. Almost best described as Jason Bourne meets Looper, The Power of River Song is quite the intricate sci-fi action extravaganza. And while it wasn't at all what I was expecting going into the story, what I got was something very good. River and Osgood especially make up a great duo, and Sam and Jacqui are very personable as well. And boy does Jemma Redgrave sparkle with Kate's morality in question.
UNIT: Incursions is definitely an end of an era, but it is done with such confidence and panache, and using the previous seven sets to hone their strengths, Incursions is brilliant. Examining morality, identity, and the enviroment with grace, and featuring some of the best writing in the range, the whole team is on top form. UNIT: Incursions is not just highly recomended, but almost required to hear. 10/10.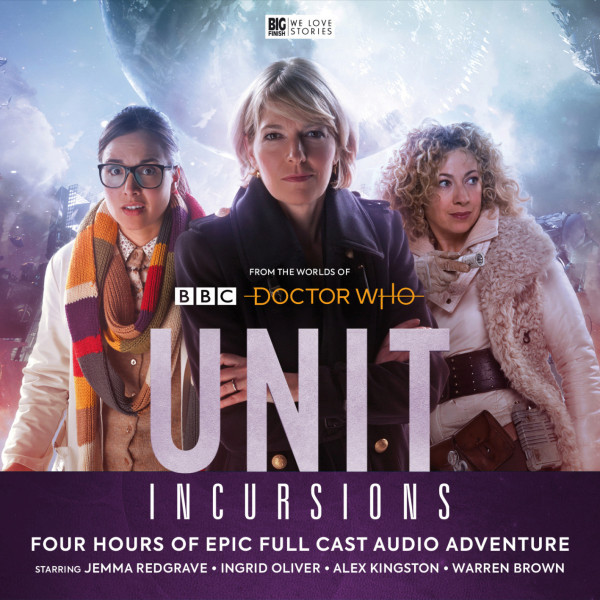 UNIT: Incursions is available to purchase at Big Finish at https://www.bigfinish.com/releases/v/unit-incursions-1534