Following on from her appearance last month in the first episode of Volume 5 of Diary of River Song, Michelle Gomez returns as Missy in her own boxset to have herself a maniacally fun time. Featuring four stories from writers Roy Gill, John Dorney, Nev Fountain, and Jonathan Morris, the latter being the writer of Missy's first apperance at Big Finish.
We jump right into things with the delightfully madcap and brilliant A Spoonful of Mayhem by Roy Gill. Capitalizing on Mad Mary Poppins design of Missy since her first time gracing our screens, Gill writes a wonderful tale that is filled with humor, action and some truly heart-warming moments from the Mistress that isn't as evil as she says she is. In regards to acting, Michelle Gomez is even better here than in her debut story, as she truly shines as the lead of her own series. However, special mention has to go to Oliver Clement and Bonnie Kingston. Child actors can usually be a risk when it comes to casting, however, both excel as Missy's de-facto companions and get some great moments towards the end when reflecting on their time with Missy. Without having listened to the other three stories in the box-set, I'm able to say without a doubt that this story is worth the price of admission alone.
Next up is Divorced, Beheaded, Regenerated from Big Finish stalwart John Dorney. Not content having Missy run around in Tudor England alone, Dorney uses the Rufus Hound incarnation of the Meddling Monk to bounce of Missy in the most fabulous way. What we end up seeing is that The Monk is very much the halfway point between Missy and The Doctor. Willing to kill if needed, but he doesn't find immense pleasure in it. We also get a nice historical romp in addition to the two being paired up, and while it won't win any awards for the best plot, it makes due for the situation.
The third episode is The Broken Clock by New Fountain. I had ridiculously high hopes for this episode and it even managed to surpass those. I expected a pitch black comedy with Missy being the unwilling partner, but what I got was something so much more. A mix between true crime shows, Deadpool, Hot Fuzz and a little Donnie Darko thrown in for good measure, The Broken Clock is one of the freshest stories Big Finish has put out in general. A truly creative gem.
Finally we come to The Belly of the Beast by Jonathan Morris. Curiously, the boxset ends with perhaps the most Masterlike story of the four. And while it was something I wanted, it was definitely something I needed. The Belly of the Beast really explores the evil side of Missy and shows that her previous incarnations are still there. This is the first time I think I've really been able to see Missy being the same timelord as Geoffrey Beevers or Roger Delgado. So while it is the most traditional story of the set, it feels as if it has a purpose that many paint-by-numbers stories do not, which elevates it so much more.
As I try to do with boxsets that have four distinct stories in them, I've ranked the four from what I enjoyed the most down. And as always I want to make clear that this is not a matter of best and worst, just how much I enjoyed each episode, as they are all wonderful and are worth listening too many times over.
The Broken Clock
A Spoonful of Mayhem
The Belly of the Beast
Divorced, Beheaded, Regenerated
Both brilliantly madcap and bonkers while being equally dark and mysterious, the first solo outing for Missy showcases how great the character is and cements the fact that The Master in all their incarnations can lead their own stories. 8/10.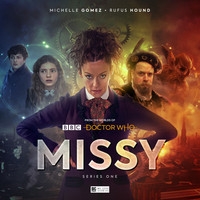 Missy: Series 1 is available to purchase directly from Big Finish at https://www.bigfinish.com/releases/v/missy-series-01-1884